Kids Matching Objects Educational for Pre School
Kids Matching Objects Educational for Pre School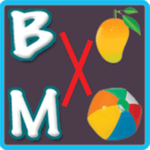 Matching object educational game is an addictive colourful and funny educational game.with the Easter Egg game.
Matching Objects for Kids game is an easy and unique way to learn and memorize the alphabets, numbers, shapes, colours, fruits/Vegetable names, Animal/Birds names, vehicle names Easter Egg and also associate objects with them.In this game kids can play matching games involving colours , shapes, animals, body parts etc. and with touch and trace, it's simple and easy to use!
By playing this Matching objects game, kids will be able to understand a new concept of education with different learning options like improve memory skills, find hidden object skills, cognitive skills and much more. Keep matching objects and complete this one of the best kids memory game.
By playing a game, students may be able to understand a new concept or idea, take on a different perspective, or experiment with different options or variables like improve visual skills, problem solving skills, cognitive skills and confidence through activities.
During play, children learn how they influence the world and their surroundings. Children also use play as a way to relieve stress and taking this time out from chores or academics is an important part of keeping a child healthy; both physically and emotionally.
Preschoolers must exercise their thinking skills to find the matching pair for each object. We evaluated teaching object-picture matching to improve concordance between preference assessments using objects and pictures of the same objects. Choose an item from one of the groups and to find its match in the other group.
Social skills 
Being a good sport
Verbal skills 
Maths skills 
Fine and gross motor skills 
Listening skills
Alphabet Learning: Alphabet with its initial pictures, Capital and small alphabets, Missing alphabets, Alphabets sequence
Keywords: matching, alphabets, numbers, shapes, colours, animals, objects, items, preschooler, toddler, kids, make a pair , join object, baby ,fun ,free game ,Easter Egg,Decoration,Find. This Kids Matching Object Games is a FREE game for preschoolers play it and Enjoy With Educational Game!!!
Match the shadow with its correct objects
Preschool-Kindergarten matching pair activities game
All in one preschool & kindergarten learning game
Alphabet Letter with objects
Match the colours with its name
All Levels are Free
Matching game for toddlers
Matching shape / also helps in Learn shape /matching shapes for toddlers
Matching Alphabets with pictures
Counting or count the similar image/ Learn Identified similar images
Match the words with respective shapes
Find all the tools and place it in the correct place
Place the items as per the shadow
Matching is a very important basic early maths skill for preschoolers.
Key Features of Learning Game:
Designed and developed for the preschool kids
Perfect Matching Game for Kids
Improve various Learning Skills – Number learning, Shape learning, Body Parts learning, colour learning
Join object using your skills
Develop your concentration through this memory activity game
Interactive designs & sounds to make playing fun
Lots of interesting game levels
Use Hints to easy your playing
Simple and easy to understand game