Telugu Rhymes
Telugu Rhymes - Baby, Video, Songs, Kids, Rhymes, Online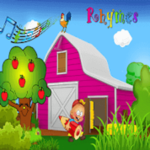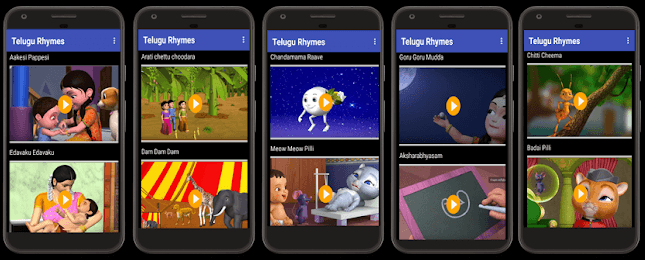 A beautiful nursery, kindergarten Telugu rhymes app for our preschool kids with songs, music, animations and sing-along. These animated preschool Telugu rhymes will grab the child's attention instantly and make them watch again and again.
kindergarten Telugu rhymes app can be used by Parents, Teachers and preschool kids for learning and Teaching new rhymes to kids making learning process fun and entertaining.
This preschool Telugu rhymes app have beautiful high quality video's. This Telugu rhymes are free and collection and famous Telugu rhymes collections. The kindergarten Kids will enjoy the high quality video Telugu rhymes.
Unravel these masterpieces and just sit back and enjoy as nostalgia unfolds for you and a whole new world for your little ones!.
We selected 50 most popular preschool Telugu nursery rhymes and developed application with animated videos for the best experience for kids, baby, children below 7 years.
kindergarten Telugu rhymes videos for kids, baby, children help to improve knowledge in Telugu and help to learn good Telugu language. Telugu rhymes videos will create fun and interest for kids, baby, children to watch and learn Telugu language.
Rhymes : Animated videos
Rhymes : Animated clips
Rhymes : Animated videos
Rhymes : Baby rhymes
Rhymes : Children rhymes
Rhymes : Kids Rhymes videos
Rhymes : Kindergarten rhyming
Rhymes : Nursery kids videos
Rhymes : Nursery poems
Rhymes : Nursery rhymes
Rhymes : Nursery rhymes videos
Rhymes : Popular nursery rhymes
Rhymes : Preschool rhyming
Rhymes : Rhymes for children
Rhymes : Rhymes for kids
Rhymes : Telugu  Baby Songs
Rhymes : Telugu  kids kadalkal
Rhymes : Telugu  lyrics
Rhymes : Telugu  kadalkal
Rhymes : Telugu  songs
Rhymes : Telugu  video
Rhymes : Baby rhymes video
Rhymes : Kanmani rhymes
Rhymes : Nursery rhymes
Rhymes : rhymes videos
Rhymes : LKG rhymes
Rhymes : Nursery rhymes songs
Rhymes : Rhymes for babies
Rhymes : Rhymes for children
Rhymes : Preschool and kindergarten Rhymes
Rhymes : Preschool Rhymes for children
Rhymes : Kindergarten Rhymes for children
Rhymes : Top 25 Hit Telugu  Nursery Rhymes
Rhymes : Top 50 kids Rhymes videos
Rhymes : kids Rhymes videos
Rhymes : Telugu  video rhymes